Filed under:
Before visiting Berlin for the first time in 2005, I didn't really know what to expect. Even if I had heard only positive stories about it, I thought it would be a tiring city full of ugly buildings and traffic noise (I don't really know where this impression came from; probably my ignorance). I'm so glad I was wrong - Berlin is such a nice and creative city.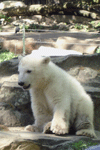 It's full of parks, cafes, clubs, bars, museums, galleries, media corporations, small boutiques, picturesque streets and sites of historic interest. This is the place where you can find the latest in music, art, architecture, and design. Berliners I met were extremely friendly and helpful. I only wish I could speak better German ;-).
A couple of weeks ago I visited the city for the third time. I still can't stop admiring it, especially the Eastern part, where you can find nice boutiques and bars with relaxed atmosphere. The architecture in Berlin is fascinating too, with contemporary glass and steel structures - including interesting grid-type facades - with endless variations in shape, weight, symmetry and proportion. Visiting Berlin always makes me wonder why we don't have such excellence in modern architecture and city planning in Brussels too!
No travel description would be complete without a few words about shopping. Below you can find the best small boutiques I have found so far (arranged by district):
Friedrichshain
Cottoncake: Gabriel-Max-Strasse 21, 10245 Berlin
Big Brobot: Kopernikusstrasse 19, 10245 Berlin
Prachtmädchen: Wühlischsstrasse 28, 10245 Berlin
Prenzlauer Berg
Skunk Funk Shop: Kastanienallee 19, 10435 Berlin
Mitte
Tenderloin: Alte Schönhauser Strasse 30, 10119 Berlin
Popshop: Weinmeisterstrasse 8, 10178 Berlin
Kreuzberg
Cherrybomb: Oranienstrasse 32, 10999 Berlin
Kreuzberganker: Kreuzbergstrasse 31, 10965 Berlin
Faster, Pussycat!: Mehringdamm 57, 10961 Berlin
One more thing: if you visit Friedrichshain, you should definitely check out Alles Gute... (Simon-Dach-Strasse 3, 10245 Berlin). It's a cosy cafe and wine bar, and they have home-made pastry too.