Filed under: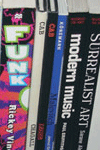 As I mentioned in Books to bring to a desert island, Part I, I will now concentrate on books about music, art and inspiration. I realise that my bag is getting heavy. But don't worry, I'll keep the headline but keep on adding books that I like :-).
Special thanks to Anders Jormin who recommended most of the Swedish books on this list.
There's more, but I'll stop here for now. Next time, I'll (probably) talk about books related to the web. We'll see...